Aging2.0 recently conducted its "Senior Care Innovation and Technology Use Survey" with the goal of understanding how senior care providers from across the care continuum are approaching innovation and implementing technology to support care. More than 100 organizations completed the survey, representing a near equal split between for profit and not-for-profit providers with balanced representation of organization size and services provided.
Preliminary results showed that the the majority of organizations ranked innovation high or very high in importance for business strategy, and prioritized areas for innovation across the four domains of Independence, Care, Mind and Mobility.
When asked for their #1 innovation priority, respondents frequently cited care coordination/management, staff management/education and technology integration. They also indicated that government and regulations are most likely to disrupt their business, not tech companies and startups.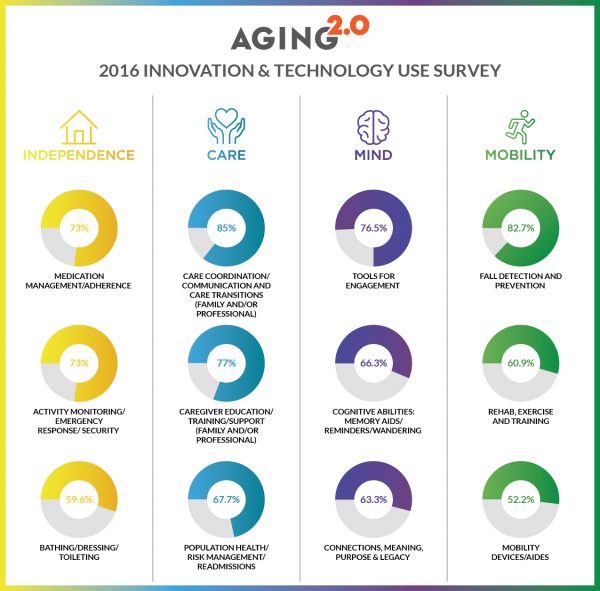 ​
The majority of companies currently use technology in the areas of electronic health records (64%), wander detection/management (56%) and care planning/documentation (53%), with significant utilization of entertainment/communications (44%) and fall prevention technologies (45%). Care coordination technologies ranked highest in "planning to use" at 22%. Areas of greatest interest in learning more about include dementia engagement/therapy (32%), cognitive fitness (28%), remote ADL monitoring (23%), physical rehab (22%), and medications & vitals monitoring (21%).
Finally, although technology has made many leaps, survey respondents identified several areas for improvement, including: functional capabilities (integration, cloud and enterprise features), user interface (easier to use) and decreased cost.
Subscribe to Aging2.0's CoverAGE newsletter and watch for the complete survey analysis.