Written By: Aging2.0 New York City Chapter Team
Here at Aging2.0, our goal is to support innovators that are taking on the biggest challenges and opportunities in aging, including the long-term care industry. That support comes in many forms, from pitch events to fireside chats with industry leaders, but one of the most important ways that we help entrepreneurs is by connecting them with the people their products are intending to help. These connections lead to a greater understanding of the real problems being faced and often result in improved products and new customers!
That's why last week the Aging2.0 NYC chapter partnered with CaringKind to host the 2018 Caregiving Technology Fair - sponsored by Google for Entrepreneurs.
Day one began with some initial remarks by Jed Levine, the Executive Vice President and Director of Programs & Services at CaringKind. Then Aging2.0 NYC's own Crispin Baynes took the stage to deliver a keynote on the future of technology in caregiving and dementia care, highlighting some important trends that innovators need to be aware of (if you're curious, you can find the full slide deck here).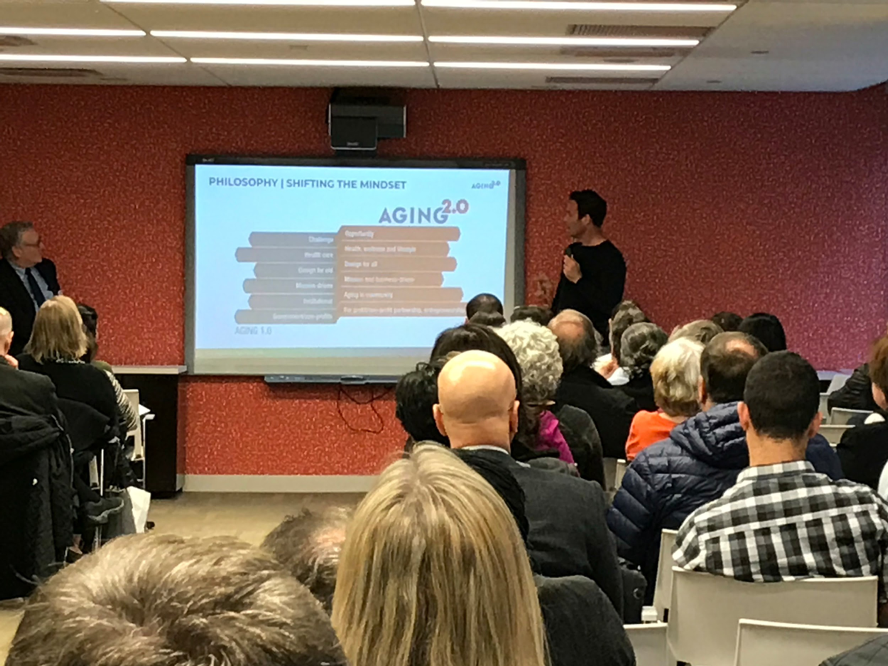 The innovators then introduced their innovations before we concluded the evening with a networking reception.
On day two, 25 startups working to make caregiving better and easier exhibited their products to more than 300 registered attendees, soliciting feedback and hearing real life caregiving stories. News of the event even reached CBS - Dr. Max Gomez came through to interview caregivers and highlight some of the innovations - a recording of which was broadcast that evening (you can find the report here).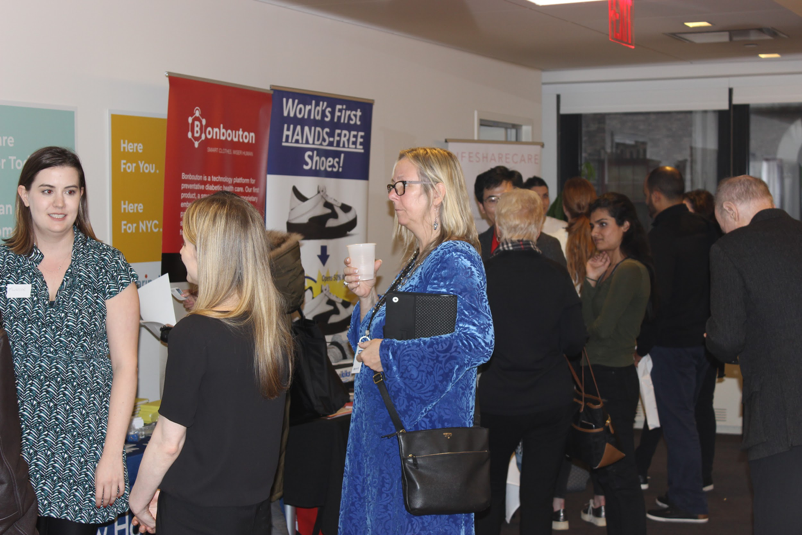 Below are the amazing startups who exhibited: 
Abely makes a portable electric recliner that makes any bed adjustable.
The Alzheimer's Store sells products designed for those living with Alzheimer's & dementia.
Alz You Need helps you find the right product for your specific needs.
Antidote matches right patients with the right clinical trials to help accelerate medical research.
Audicus makes high-quality affordable hearing aids by cutting out the middle men.
Balance from RiverSpring Health helps manage the complexities of Alzheimer's caregiving.
Bonbouton makes smart insoles that detect early signs of foot ulcers in diabetic patients.
FallCall is the first personal emergency assistant app for the Apple Watch and iPhone.
GreyMatters is an interactive life storybook app for people with dementia and their caregivers.
LifeShareCare is a quality assurance platform that brings transparency to home care.
MavenCare offers personalized home care services to keep seniors aging at home.
Music & Memory brings music into the lives of the elderly to help them reconnect with the past.
OneRecord combines all of a patient's medical records into one easily accessible platform.
Pixie Scientific has created the first "smart" incontinence pad which can detect UTIs.
Pop Doc is an online resource for adults who want to stay active and as pain-free as possible.
RecallCue is a connected Clock that caregivers can send messages, photos, and reminders to.
Rendever has created a full virtual reality platform specifically designed for the 65+ population.
ReverCare connects caregivers to care coaches to help plan for the needs of their loved ones.
SafeWander prevents wandering by sending alerts to caregivers when patients leave their bed.
SensorsCall has developed an AI platform that unobtrusively looks after seniors living at home.
SilverBills scrutinizes household bills to ensure that they're paid correctly and on time.
Soundmind uses voice-enabled devices to connect senior living residents to their community.
Timeless helps Alzheimer's patients remember events and stay connected to friends.
Timocco is a virtual motion gaming system to help older adults increase mobility.
Tribute makes it easy to share meaningful memories with loved ones with dementia.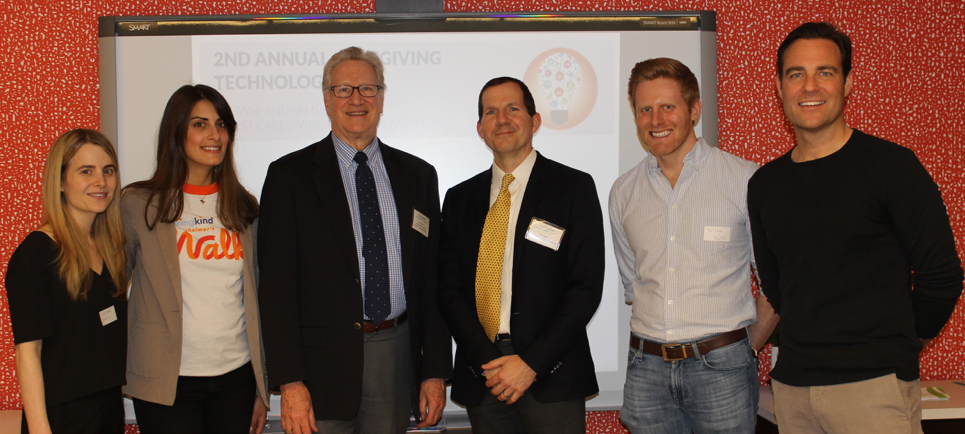 If you'd like to find out about more events like this, you can sign up for the Aging2.0 NYC chapter email newsletter here and follow us on twitter at @aging2nyc.
A huge thank you to our sponsor Google for Entrepreneurs, without which this event could not have happened.
Authors: Aging2.0 New York City Chapter Team