Download today's full story. Collect all 21 Stories and use them to inspire your community and fight loneliness. ​
Neuza Guerreiro de Carvalho: "I am 90 years old and had stayed in my apartment alone since March cooking, cleaning and working. It was a very lonely period. Then the campaign #IamOverSixty appeared in the media, and as a local director of Aging2.0, I was invited to join it. I was asked to do a TV commercial for iFood (a delivery App), calling attention to the needs of older adults."
"This got a lot of people who are 60 years and older excited to read my blog about daily life, the books I read and the classes I lecture. They were also eager to learn how to use digital tools to communicate. I am also pleased that my appearance on TV raised awareness for my live digital course about how to write one's personal history (Memorias Contadas) and helped me to gain dozens of new subscribers." 
This campaign is like a wave: starting small, it has grown with more and more people connecting and passing on the message. It has helped people like Neuza Guerreiro de Carvalho feel better about themselves and encouraged them to move forward, feel loved and listened to. This campaign is gradually reaching other cities and states through its work and engagement of other Aging2.0 local Chapters (such as Ribeirao Preto and Rio).
The Concept
By mid-March 2020, the COVID-19 lockdown was a reality across Brazil. In the city of São Paulo, nearly all businesses were closed. In a southern city, older adults were forbidden to leave their homes. Soon rumors grew on social media that treating seniors in hospitals and keeping them safe was negatively impacting the economy.
To combat this ageism and the effects that social and physical isolation produce, Aging2.0 São Paulo came up with the campaign #SouMaisSessenta (#IamOverSixty). The Chapter was joined by local partners Artplan, USP 60+ University and the Municipality of São Paulo. 
Together they created a movement to highlight the value, wisdom and experience that older generations offer to Brazilian society. The program promotes intergenerational exchange and communication to keep older adults active, and called on the Brazilian society as a whole to reach out and be sensitive to  the needs of older adults.
The Result
The campaign officially started on December 1st, 2020 on the subways of São Paulo, which carry over 5.3 million people daily. A special video was produced and shown on a screen in all of the subway cars. Some key stations were lit each evening with the 3 colors of the campaign (blue, yellow and rose) and posters were made to inform passengers of the campaign's objectives. 
The movement has grown and the videos are now running during prime time on Cultura and Record, two of the largest TV stations in Brazil. Segments on the local news of TV Bandeirantes featured interviews with senior representatives of the campaign. 
All campaign material is customizable and available for free to any Aging2.0 Ambassador or anyone from the Aging2.0 network to use!​
Check out the following videos to learn more about this inspiring campaign! 
Ambassador Endorsement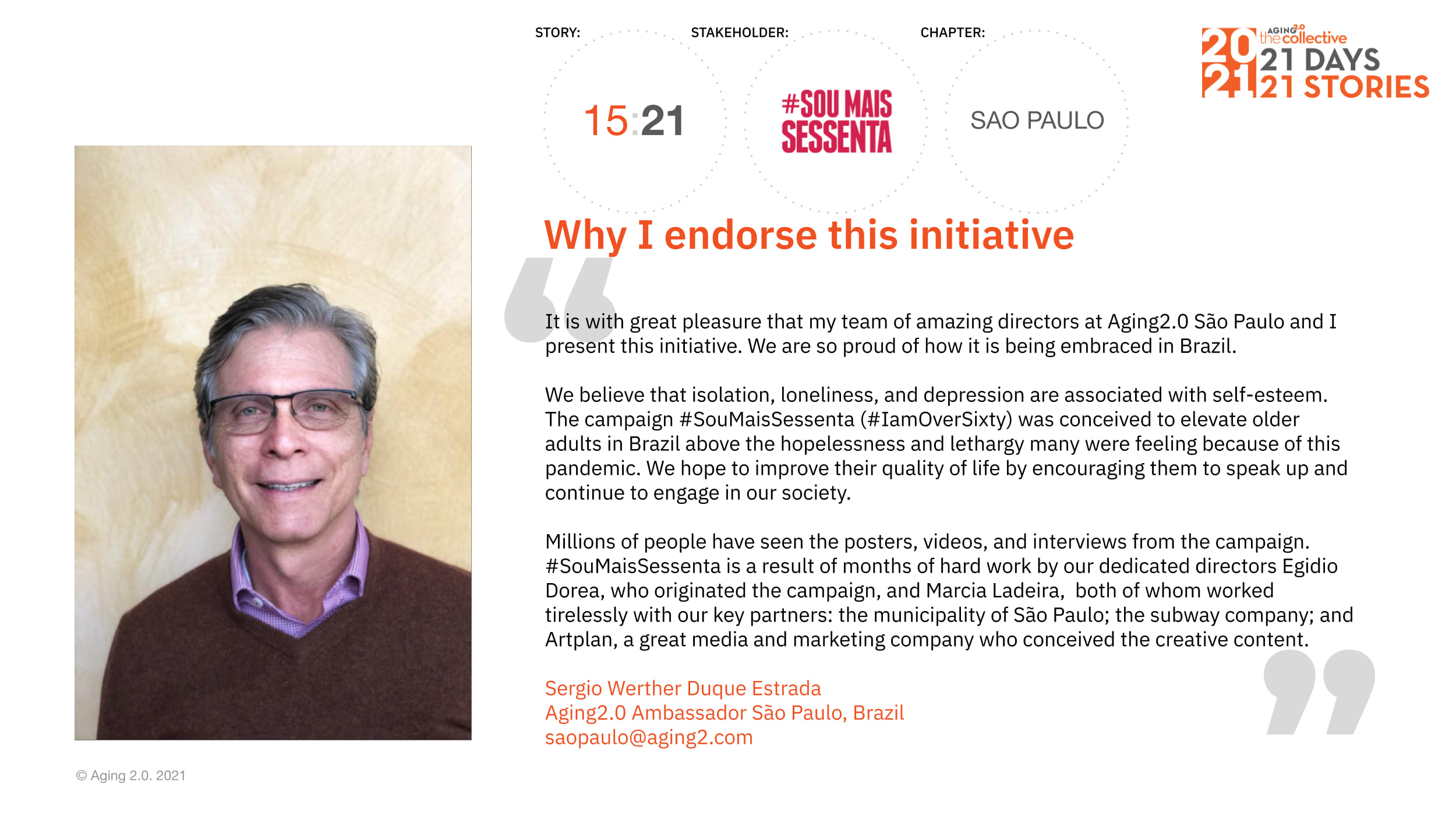 (c) Aging2.0 Sao Paulo Chapter