Download today's full story. Collect all 21 Stories and use them to inspire your community and fight loneliness. 
Jim Goettler, author of the book Everything Non-Profit Toolkit, first heard about SĀGE on Facebook. After becoming a mentor, he connected with 2 young women from New York who had started a non-profit during COVID-19. Their idea was to send plants to older adults in nursing homes, and they needed organizational expertise to help scale their idea.
Jim said: "That's where I was able to step in. They were good people, doing good things and I wanted to help these young ladies build their business. To me, this feels like a simple continuum and natural progression of how things should be. They can now take the knowledge I passed on to them, add their understanding, and then pass it along to the next person, who will share it with the next."
Sandi, a resident of Sydney, Australia, contacted the platform after reading about SĀGE. She said, "I don't know what I can teach, but I want to be involved." Sandi took on the role of sharing the SĀGE platform with Australian newspapers and recruiting new Sages. Helping the platform grow fills her with joy: "I can't remember the last time I was this excited about something. It gives me butterflies!"
The Concept
SĀGE is a platform where elders share their expertise and practical wisdom with younger generations through one-on-one and small group experiences. 
SĀGE has been offering classes that teach practical wisdom around the world since their launch in April of 2020. In November they launched SĀGE with FRIENDS—classes with smaller groups. In these 40-minute experiences, people with similar interests get acquainted. The classes are free of charge; however, participants can choose to tip their Sāge. The classes are led by a spirited group of Sages who are more than happy to share their knowledge, create new friendships and bridge the generation gap.
The Result
All of the online experiences were fully booked, and 427 people logged on to watch them live. The live events led to 8,700 views and additional booked session on the platform. 
There are a variety of classes, including investment and cooking, with more subjects being added daily. The Chess Openers and Traps class taught by Bill Wall even had a guest appearance by Grandmaster Larry Kaufman, a World Senior Champion. 
SĀGE is asking the Aging2.0 community to nominate knowledgeable and wise elders who might be interested in sharing their expertise on SĀGE. Visit www.findasage.com to learn more!
Ambassador Endorsement
​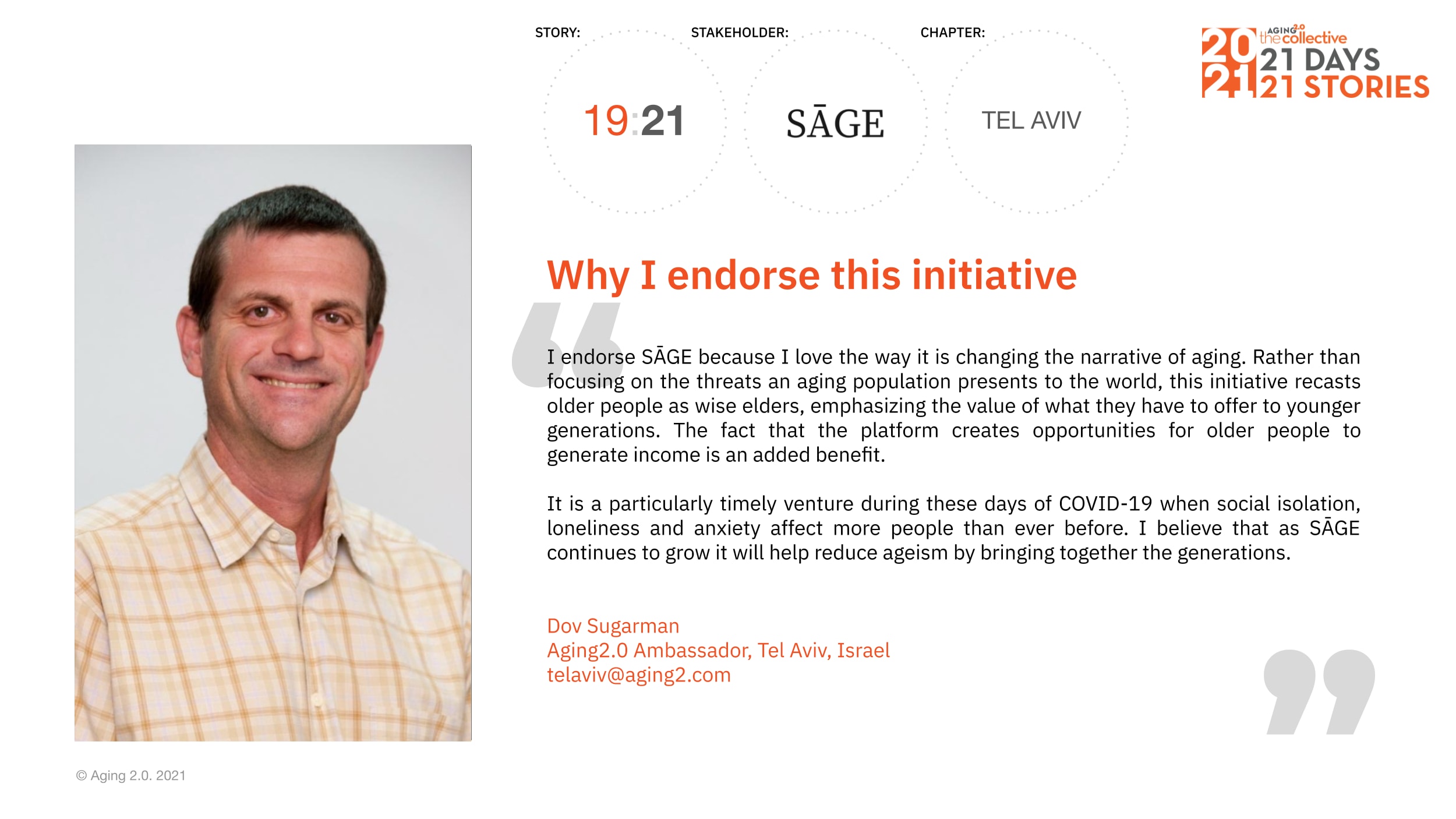 ​
(c) SĀGE