Download today's full story. Collect all 21 Stories and use them to inspire your community and fight loneliness.
Imagine you're the casting director of a musical with a seemingly impossible task: Find 30 seniors in Vienna who are willing to sing and dance on stage.
With a callback rate that usually lies between 5–7%, it was clear that at least 500 seniors would have to be found to cast the best 30. The entire city would be notified of this innovative cultural act—and the most renowned singing and dancing coaches in Austria had been hired to train the amateur actors' group. No pressure!
All of your hope lies on a city-wide media and PR campaign to invite seniors to come to the casting; a campaign that was announced in traditional media channels like print, radio and local TV. A few weeks pass and only 150 people apply. You're trying to think outside the box: Let's target the grandchildren! You start running a campaign on Instagram titled "Sign Your Grandma Up to Perform On Stage". Zero response. Then it hits you: Target seniors on social media with a video campaign! A few days pass and then, suddenly, the applications start pouring in. 600 submissions in 10 days! You probably already guessed which media channel helped to reach the goal: Facebook.
The Concept
When the marketing manager of the Pensioners Club of the City of Vienna realized that his manifold program of 150 local clubs—which aimed to connect and entertain seniors—showed very low attendance numbers, he had an idea.
His co-worker Anna, a trained musical writer, told her colleagues that she had written a musical titled Onkel Harry (Uncle Harry). The marketing director read it, loved it, and made a proposal: What if the highlights of the club program were cleverly and subtly embedded in the musical script? They would invite 30 seniors from Vienna to act, sing and dance and hire professional musical actors and coaches to train and act with them. Their hope: The performance of the autodidact actors and the charming story would stir the motivation of seniors to attend the club events, thus staying active and socially connected—while the musical would become a big hit and show what seniors are capable of.
The Result
The goal was to find 500 seniors through the media and PR campaign. Selecting the right media channel and creating the right message ("act alongside a widely known musical star") made over 600 seniors come to the audition. 25 reports in regional and national media (print, TV and online) provided local and national coverage which has an estimated media value of €500,000+. The musical was scheduled to premiere in October 2020 but was postponed when the second Corona lockdown hit Vienna. The Uncle Harry premier is now scheduled to take place on September 8, 2021.
This is a call to all Austrians: Go and watch the show! It will be a tremendous support for the seniors who have been practicing and working hard to perform at their best. They deserve to be showered in applause.
Learn more at www.onkelharry.at and check out the inspiring videos below!
Ambassador Endorsement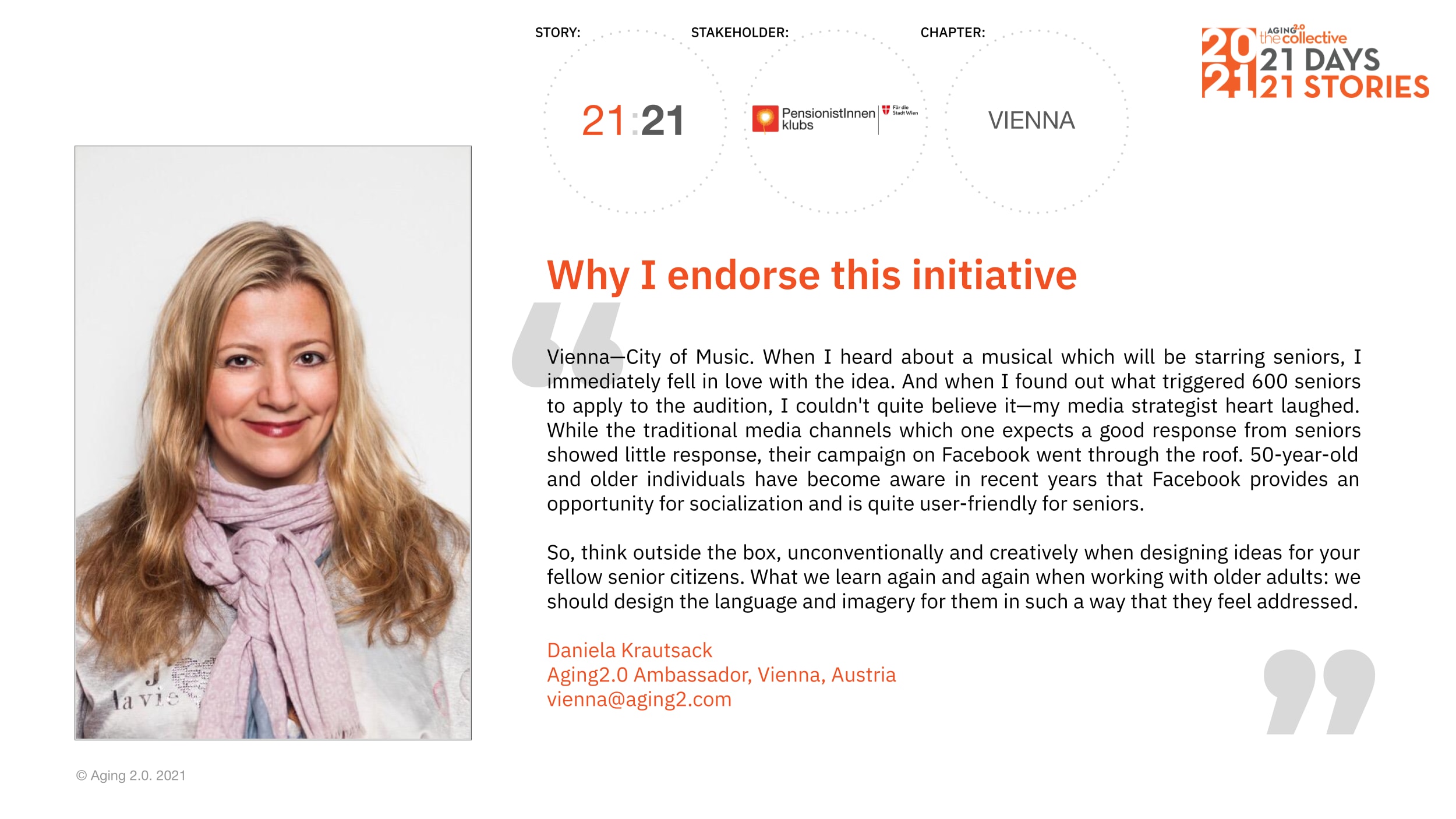 Photo and video credit: Kuratorium Wiener Pensionisten-Wohnhäuser