Download today's full story. Collect all 21 Stories and use them to inspire your community and fight loneliness.
82 year old Henrik lives in a Stockholm care facility and has used BikeAround five times in the last two weeks. While on the BikeAround Henrik literally cycles through his memories - traveling virtually through the locations and landscapes of his life while pedaling a stationary bike.
Speaking of his experience, Henrik said "I love this thing. It overwhelms me because here I am pedaling away like a little boy, traveling through my whole life in my mind. I can visit the places I've lived and the place I've loved. This experience is fabulous - going for a ride through my past is like time traveling."
Riding the bike is also a social experience. As he cycles, Henrik talks to his caregiver or grandchildren and enthusiastically recounts memories of his life, often about his apartment building where the famous Swedish actress Ingrid Bergman was also raised.
Cycling through real places without leaving the home is a powerful way to recall memories and share experiences.
The Concept
BikeAround consists of a stationary pedaling and steering unit along with software that uses Google Street View. Using this system, riders can visit places all over the world. It was brought to life through a collaboration between a game developer and researchers at Halmstad University.
Riders are able to take a cycle ride based on their condition and ability. They can either choose where they would like to go or caregivers can prepare locations to 'visit' that have a connection to the Seniors' life story.
The Result
250 BikeAround systems have been installed in 12 countries, with 20 regular users per bicycle. The facilities that house BikeAround shared that their residents are happy and calm after cycling. Additional research is also finding connections to improved balance, mobility and even the possibility of a reduced fall risk.
Camanio Care is interested is seeking partners and customers for their BikeAround product. Contact stockholm@aging2.com for an introduction.
Ambassador Endorsement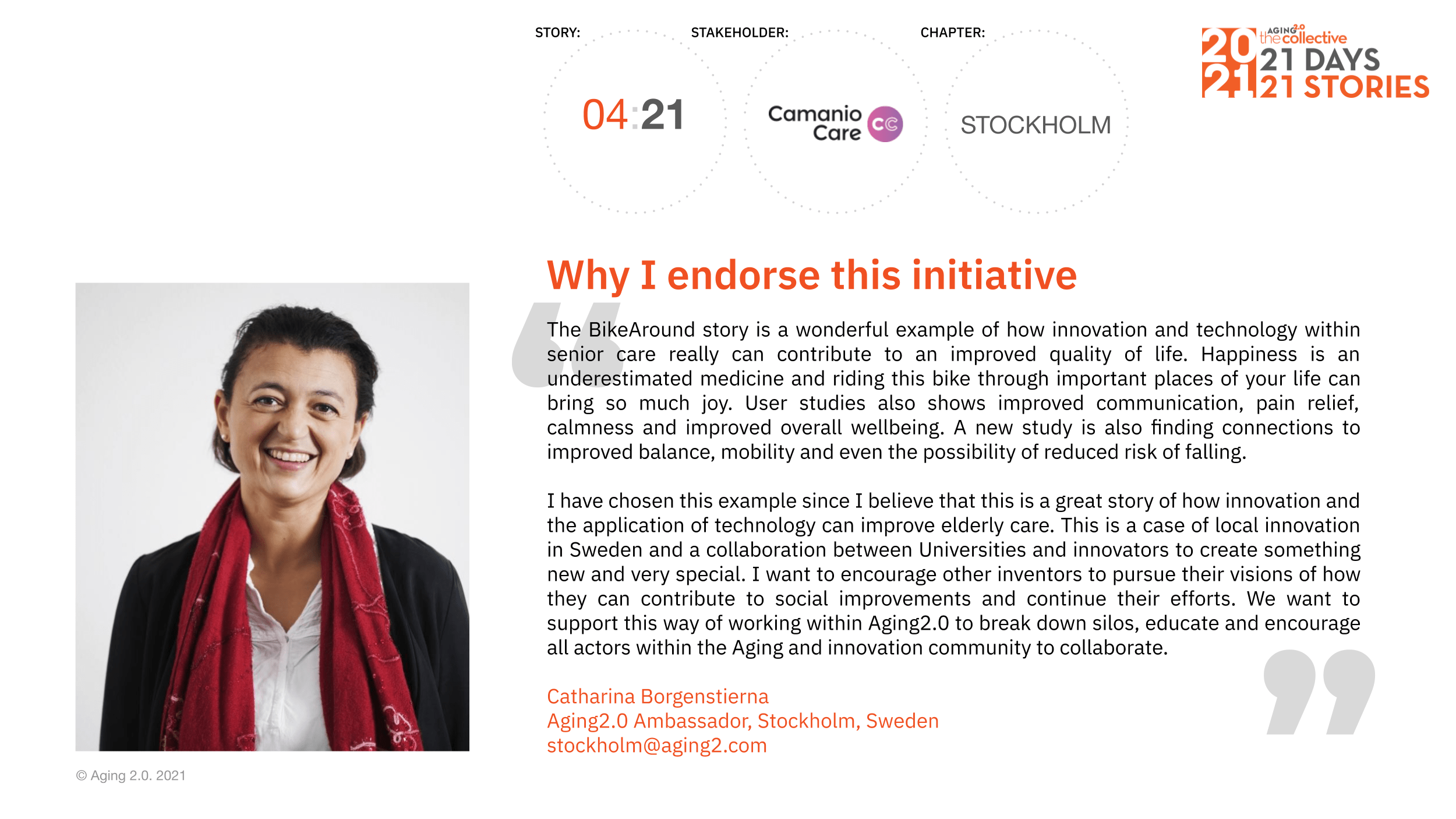 Contact Catharina at stockholm@aging2.com for an introduction!
| | |
| --- | --- |
| (c) Camanio Care | (c) Camanio Care |
| (c) Camanio Care | |