Download today's full story. Collect all 21 Stories and use them to inspire your community and fight loneliness. 


Nelly visited her son in the United States last year, but due to the COVID-19 lockdown she couldn't return home to Lima as planned. She was eager to go back to her active and independent life in Peru—in part because, at the age of 83, she found an art expression program for older adults: Momentos de Alegría (Moments of Joy). The activities there allowed Nelly to fully express herself. By creating art, learning new topics and making new friends she felt active again. 
While she was staying in the United States, Nelly's son found out that the Peruvian art program was transferred online due to the pandemic and decided to surprise Nelly by signing her up for a collage art session over Zoom. Nelly could not believe her eyes—her beloved art program was right there, a click away from her. Eager to meet her friends online, she was motivated to learn how to use Zoom. 
Nelly was not only able to reconnect with her old friends, but she made new ones online. She calls herself one of the most enthusiastic participants of Momentos de Alegría. "Life goes on, we cannot stop and watch it pass by."
The Concept
'Moments of Joy' wants to prove that our creative abilities can be developed at any age. The program is also open for participants with dementia who express their emotions through different means of art, such as painting or handcrafting. The activities offered to older adults are based on a gerontologic perspective and participant feedback.
All sessions are run by experts in their fields, including: gastronomy, film making, drawing, the ancient Peruvian counting technique of Quipu, story writing, urban gardening, recycling, etc. Each activity session holds up to 25 participants who tour the art facility, go through the creative session, explain their pieces of art and share feedback. The goal is for each participant to enjoy their experience versus having the perfect end result.
The Result
The initiative's organizers, art partners, film producers and the Peruvian Department of Culture, as well as others, marketed the program widely and reached over 350,000 people. Ten virtual workshops were run in 2020 and the lives of 285 older adults were impacted. 
Lima's Call
Join our initiative and help expand the creative potential of older adults to enhance their wellbeing. We are looking for partners and sponsors so we can continue offering this great program through 2021.
Ambassador Endorsement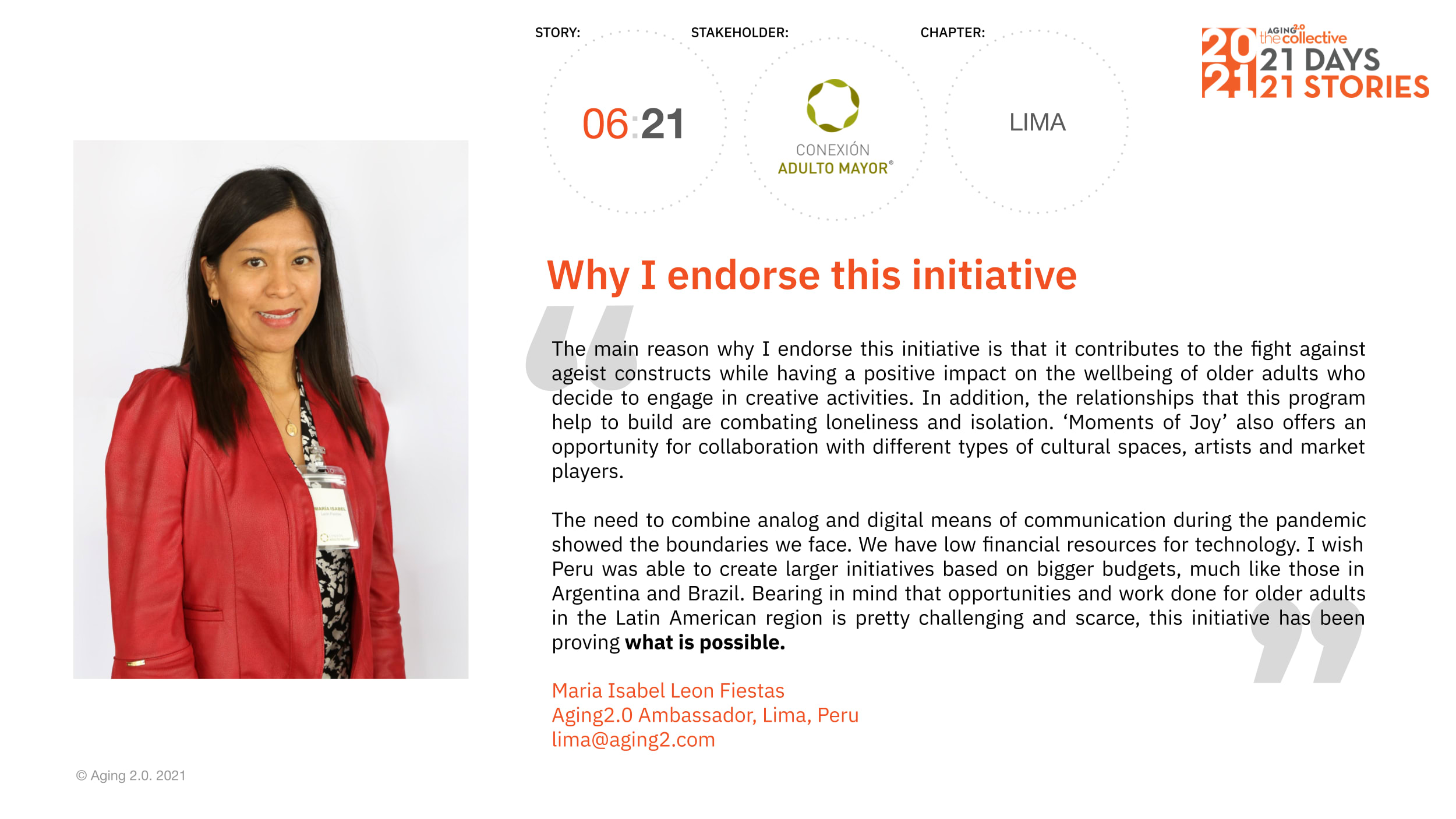 To get in contact with 'Moments of Joy' contact Maria Isabel (lima@aging2.com)

(c) Conexion Adulto Mayor
Participants first wrote their stories. Then created some of the characters, took pictures of them and learned how to use the stop motion application on their smart phones to create their films.

(c) Conexion Adulto Mayor
Participants first wrote their stories. Then created some of the characters, took pictures of them and learned how to use the stop motion application on their smart phones to create their films.

(c) Conexion Adulto Mayor
This was a workshop that aimed to reflect the personal heritage of each participant. Peru is a multicultural country. Based on an exhibit about the heritage of an Andean location that showcased different use of textiles, we invited participants to recreate their heritage providing different textiles.

(c) Conexion Adulto Mayor
This was a workshop that aimed to reflect the personal heritage of each participant. Peru is a multicultural country. Based on an exhibit about the heritage of an Andean location that showcased different use of textiles, we invited participants to recreate their heritage providing different textiles.

(c) Conexion Adulto Mayor
This was a workshop for people with early stages of dementia. Participants visited the exhibit of a Peruvian artist and then were prompted to created their own masterpieces in a free style.

(c) Conexion Adulto Mayor
This was a workshop for people with early stages of dementia. Participants visited the exhibit of a Peruvian artist and then were prompted to created their own masterpieces in a free style.

(c) Conexion Adulto Mayor
This was a workshop for people with early stages of dementia. Participants visited the exhibit of a Peruvian artist and then were prompted to created their own masterpieces in a free style.

(c) Conexion Adulto Mayor
Nelly