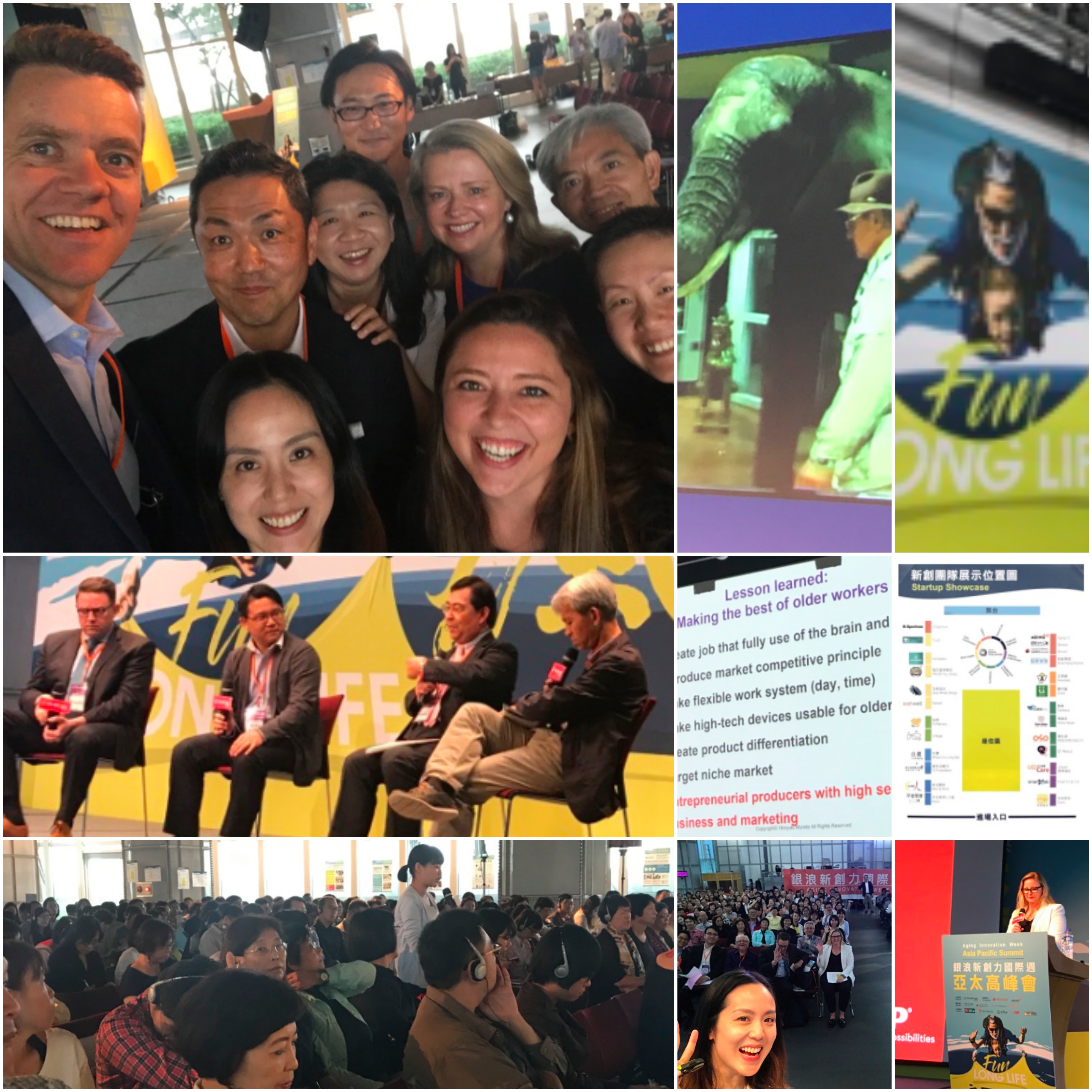 I just got back from our APAC Summit, and am energized around the opportunity in Asia. The Summit day-long program, which we were a partner for with organizer Hsin-Ling and her team at Silver Linings Global, was part of a four day Aging Innovation Week, brought together some interesting perspectives from across APAC as well as America and Europe. Speaker highlights for me included: 
Minister Audrey Tang (Taiwan) is awesome. She's breaking the mold for government ministers - the youngest ever Taiwanese government minister (at 36), she's a child-prodigy computer scientist, fresh from Silicon Valley, transgender, and a self-described anarchist. She introduced (digitally) an impressive $5bn plan with a focus on digital inclusion which will involve multiple initiatives around aging and innovation. Watch this space for more good things from her and Taiwan. 
Professor Hiroyuki Murata (Japan) gave an engaging talk about some of the trends in 'smart ageing' (of which he is a professor) and stories from the 900+ companies he has helped, including Curves Japan and the popular Raku-Raku phone.
Deb Whitman (USA) head of policy at AARP, gave a broad overview of key challenges and stats impacting older people's lives, and introduced their new Aging Readiness & Competitiveness Report, which analyzes 12 countries according to four pillars: Community Social Infrastructure, Productive Opportunity, Technological Engagement, and Healthcare and Wellness. 
Dr. Hans Becker (Netherlands), former Chairman of Humanitas talked about 'Successful Aging-in-Place Models' and discussed his 'apartment for life' concept, and colorful stories of when he brought an elephant into one of his buildings to surprise the residents, colorful carnival parties and more. This is the kind of aging I aspire to. 
Julianne Parkinson (Australia) from South Australia's Economic Development Board introduced their new healthy aging initiative that had recently received $12m government funding, which will help fund a large 'living lab' that will offer services to startups arond the world. This topic and others will be explored in their November conference.  
13 startups from across APAC pitched (20 were in the showcase) and most had a focus on engagement/purpose and livable communities. Notable startups for me included: HKLSS Toy Library (focus on play), QT Medical (superior ECG testing for consumers), SmartXLab (smart home / aging in place sensor play), PicMemory (visual prompts as memory aids) and Gray Whale Design (an innovation 'factory' creating multiple aging-focused products and services). We'll be seeing many of them again in a few weeks at OPTIMIZE.  
The trip brought home to me three realities: 
Taiwan is making good progress on its innovation agenda. As I wrote after my last visit, Taiwan's got a lot of assets at its disposal to be a leader in innovation in aging - cutting edge technology (which is becoming more human / personable), an effective and efficient healthcare system, and strong social / family connections. A few recent innovations would make me double down on this - a new "Long Term Care Plan 2.0" (am sure we can't claim that much credit for the terminology...), the $5bn DIGI+ plan I mentioned above to drive digital growth over the coming few years and that dynamic digital hotshot, Minister Tang. 
Asia is not sitting around waiting for Silicon Valley to 'solve' aging. The startups were significantly more advanced than when I visited 3 years ago. These were sophisticated companies, some making ground-breaking advances in technology (e.g. a consumer-focused ECG machine, smart insights around the psychology of play, next-generation non-wearable sensor technologies etc) and all of them looking to expand, though not all necessarily looking only at the US market. There was a sense that APAC was a market - almost as much as in Europe, despite much less formal 'common market' structure.
The 'Grand Challenges' resonated and point to the need for coordination.  Grace and I talked the audience through the Grand Challenges and the topics resonated, and also the startups that we met all fit neatly into the 8 buckets (see below). However, in Taiwan, as in other countries, there is a redundancy of effort and lack of learnings from existing innovations and best practices about the topics. Many of the startups were pretty similar to what we've seen in other countries and it would be a shame for all of them to go through the same painful and expensive learning curves. This as we say at Aging2.0, needs to be a global conversation. This is why I'm excited about the plans for next year where we'll be building a more robust platform to share the best innovations that we see in the Challenges and holding Forum events around the world to connect industry and startups together and help move things forward across the Challenge areas.  
Overall, Grace and I had a fantastic few days and am very grateful to our wonderful hosts Hsin-Ling and Deborah for their tireless efforts, limitless patience and genuine warmth over the past few months. Looking forward to continuing to collaborate with them and our existing, and new, APAC friends.